| | |
| --- | --- |
| Owned by Character | N/A |
| Owned by Player | Mods |
| Accessibility | Public Location |
| Damage Permissions | Yes! Remember, ask a mod if the damage is huge. |
| Current Residents | Possibly some bunnies. |
Taxon Forest (located in Osten) is based on Croatia's
Plitvice Lakes National Park
and, more generally, the Dalmatian Coast. In the 'forest' portion of Taxon, close to eighty percent of the land is a 'proper', arboreal forest, while the remaining 20% is open, alpine grassland.
The forest portion includes of a series of lakes connected by short waterfalls. The same porous stone that allowed this series of lakes to form, means that most of the forest itself is riddled with caves and the occasional sinkhole.
Flora & Fauna
Edit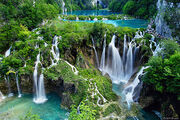 Generally speaking the flora are a mixture of alpine and Mediterranean species with beech, spruce, and fir trees as the most common species. Due to its range of microclimates, differing soils and varying levels of altitude, it has a notably wide variety of plant communities.
The area is also home to an extremely wide variety of animal and bird species.
Common: deer, grouse, eagles, rabbits, bats, otters, chamois, vultures, herons, wood frogs, toads, tortoises, harmless snakes, hedgehogs, foxes, small fish
Unusual: bear, boar, wolves, wild cats, spoonbill, ibis, pelican, kingfisher, horn-nosed viper, beaver, lynx, owls.
---
Ad blocker interference detected!
Wikia is a free-to-use site that makes money from advertising. We have a modified experience for viewers using ad blockers

Wikia is not accessible if you've made further modifications. Remove the custom ad blocker rule(s) and the page will load as expected.