| | |
| --- | --- |
| Owned by Character | N/A |
| Owned by Player | Mods |
| Accessibility | Public Building, though the rooms count as private areas |
| Damage Permissions | Yes! Remember, ask a mod if the damage is huge. |
| Current Residents | Mayland Long |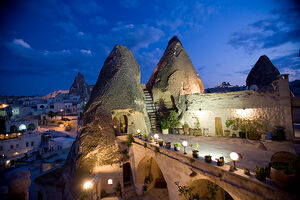 The Kelebek Hotel is a 36-room hotel carved into the stone of a cave structure. It is a full-featured hotel with amenities such as a Turkish bath, a swimming pool, and a restaurant. (The
original
exists in Turkey on Earth. More photos (especially of the rooms) may be found there.)
Rooms are available at no cost to Taxon residents, much like lodging in the rest of the city-- pick a room and its yours. The Kelebek Hotel is one of the many alternatives to the Sanctuary available for characters who find the Sanctuary's environs a little sterile but aren't looking for a full house of their own.
ROOMS / RESIDENTS
Edit
The rooms of the Kelebek Hotel are spread out through the structure, carved into the rock. Most were expansions of naturally-occurring cavern spaces.
Ad blocker interference detected!
Wikia is a free-to-use site that makes money from advertising. We have a modified experience for viewers using ad blockers

Wikia is not accessible if you've made further modifications. Remove the custom ad blocker rule(s) and the page will load as expected.