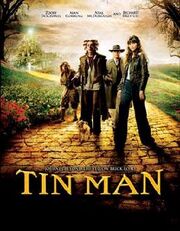 Cribbed from Wikipedia
Tin Man is a 2007 six-hour miniseries co-produced by RHI Entertainment and Sci Fi Channel original pictures. It was broadcast in the United States on the Sci Fi Channel in three parts. Starring Zooey Deschanel, Neal McDonough, Alan Cumming, Raoul Trujillo, Kathleen Robertson, and Richard Dreyfuss, the miniseries is a reimagining and continuation of the classic story The Wonderful Wizard of Oz, with science fiction and additional fantasy elements added. It focuses on the adventures of a small-town waitress named DG who is pulled into a magical realm called the O.Z., ruled by the tyrannical sorceress Azkadellia. Together with her companions Glitch, Raw, and Cain, DG journeys to uncover her lost memories, find her true parents, and foil Azkadellia's plot to trap the O.Z. in eternal darkness.
(Drop Keri a line for info on downloading.)
Pages in category "Tin Man"
Ad blocker interference detected!
Wikia is a free-to-use site that makes money from advertising. We have a modified experience for viewers using ad blockers

Wikia is not accessible if you've made further modifications. Remove the custom ad blocker rule(s) and the page will load as expected.